Protective vinyl strip on the lock jamb and standard 18" lock block;
Finger-jointed pine frame : 2 frame thickness available : 1 1/4" with choice of depth of 4 5/8", 6 5/8", 7 1/4" or 9 1/4" and 1 5/8" thick with depth of 6 7/16";
All our frames are available not cladded, with vinyl clad or aluminum clad that can be painted with the color of your choice;
Double weatherstripping results in the ultimate barrier of defence against unwanted air and water infiltration : white magnetic weatherstrip on handle side and on top, compression on hinges side and polyflex on 3 sides;
Silver or brass 4" x 4" hinges;
Standard boring for handle;
Insulated anodized aluminum sill and factory-installed adjustable bottom sweep;
Door slab
"Celcolor" 1 3/4" superior quality white steel door finished with thermo-hardened polyester paint, insulated with polyurethane foam in 24-gauge steel;
5 different door slabs, embossed or flush;
4 width available : 30" – 32" – 34" or 36";
Structural assembly and reinforced mullion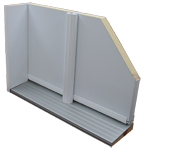 Thanks to an aluminum reinforced pvc mullion, the door with sidelites as well as the Château door and double door are structurally assembled, meaning one piece seal, reducing water infiltration risk.
Paint
Door slab models
We offer different layout of steel door:
The single door
The single door with 1 sidelite
The single door with 2 sidelite
The twin door, consist of one opening door and one semi-opening door, thanks to its astragal with flush bolt. It could also come with sidelites.
The Château door, consist of 1 opening door and one fixed, with a sliding screen and available with different possibility of openings. It could also come with sidelites.
A vast choice of models of white steel doors superior quality "Celcolor" 1 3/4" finished with thermo-hardened polyester paint, insulated with polyurethane foam in 24-gauge steel, protective vinyl strip on the lock jamb and standard 18" lock block.
All our models are also available with optional reinforcement to be able to install a panic-bar as well as 20 minutres fire-rating.
Standard
Non Standard
We want you to be able to personalize your door, so we have four suppliers of door inserts in addition to the commodity glass we offer. Visit their web site or ask for a brochure from one of our distributors. Also ask about the delivery delay, which can vary.
Commodity
Novatech
Visit the Novatech's website to start creating the entrance door of your dreams!
Verre Select
Regular hinges
Ball bearing hinges
Spring loaded hinges
Since there's a lot of choice when selecting a door handle, you'll be able to select the right boring for the one you'll choose.
Boring available with standard steel door
Boring available with 20 minute fire-rating door slab
The Warranty certificate is available in PDF format. It covers Roberge & Fils Inc. windows, doors and hardware.
Pour les garanties concernant les vitraux, vous devez-vous référez à la garantie du manufacturier du vitraux:
Exterior brickmould

CO126 - 1 1/8" Colonial brickmould

9668 - 1 9/16" Brickmould

9468 - 3 19/32 " Brickmould


Pine brickmould vinyl cladded

Aluminum brickmould
Interior jamb extension

1/2" drywall return"

1/2"-3/4" drywall return"

0357 - PVC Extension 5 3/4"

0370 - PVC Extension 7"

Vinyl cladded wood extension (6 1/2")

Vinyl cladded wood extension (9 1/4")


Pine Extension (6 1/2")

0102 - 2 1/2" interior trim

0103 - 3 3/8" interior trim

2 1/2" - 3 3/8" Rosette